Biolite Cookstove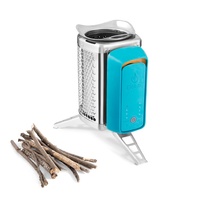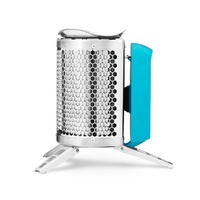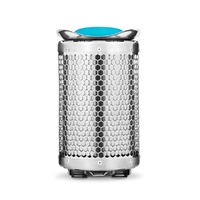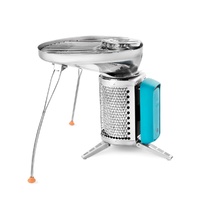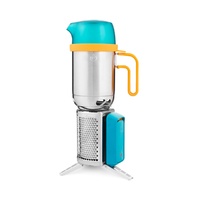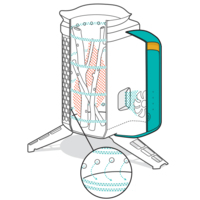 ---
With the BioLite CookStove, it's all about the fire: The streamlined CookStove provides 30 hours of clean wood cooking on a single charge of the USB-rechargeable airflow system. Four fan speeds control flame size, enabling you to boil rapidly or enjoy a campfire feel. Leave the gas canisters behind and cook meals using the sticks around you. This stove is perfect for campers looking for the basics: smokeless flames and freedom from fossil fuels.
The Right Stuff: How We Burn Wood Like Gas
It's all about being in the right place at the right time. A good fire has three key elements working together in a careful ratio:
Fuel
Oxygen
Overall temperature
When you properly mix oxygen and fuel in a fire, combustion improves, raising overall temperature which – you guessed it – further improves that combustion, allowing particles to burn easily and efficiently before they have a chance to escape the fire. The smoke you see from a typical campfire? That's wasted fuel. The CookStove doesn't let that happen.
Take a look inside your CookStove's burn chamber – you'll see multiple small jets. When the fan system is turned on, these jets inject air all throughout the fire. By distributing the airflow, we can raise temperature evenly and ensure uniform combustion throughout.
Features:
Built-in Pot Stand: Works with your camp cookware or integrate seamlessly with BioLite Portable Grill and KettlePot.
Fuel Chamber: Top load sticks, pellets or pinecones
Battery Powered Airflow Unit: The key to BioLite combustion is the internal fan powered by the USB rechargeable battery pack
Battery Level LED Indicator: See How much batery life is left in the power pack
Fan Speed LED Indicator: Control the size of your flame with 4 fan settings
Power Button: Turns the fan system on/off and adjusts the fan speed
Built-in Folding Legs: Aluminium legs stabilize the stove and pack easily
Specifications:
Weight: 725 grams
Size Packed: 19.7cm x 11.43cm
Size Unpacked: 21.03cm x 11.43cm
Battery Run time: 30 hours on Campfire, 25 hours on Simmer, 20 Hours on Boil, 10 Hours on Turbo
Battery Charge time: 1.7 Hours with wall charger
Boil Time: 4.5 minutes for 1 Litre
Fuel: Renewable Biomass (sticks, twigs, pellets, pinecones)
1 Year Warranty
What's in the box:
1x Cookstove with Battery Pack
1x Stuff Sack
1x Firestarter
1x Rechargeable Micro-USB Cord
1x Instructions
Optional Compatible Accessories:
BioLite KettlePot
BioLite Portable Grill
---
Postage & Handling
- $0.00