Ark III Three Day MRE 72 hour Survival Pack (US Coast Guard Approved)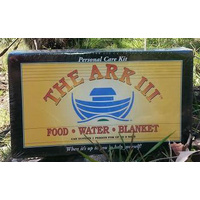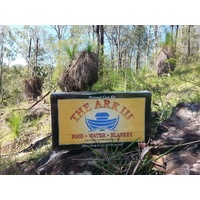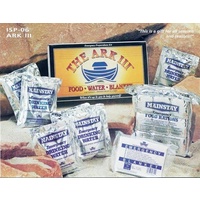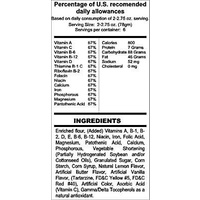 ---
As used by and approved by the US Coast Guard.
The Ark III is a survival pack which provides food, water and warmth for one person for up to three days. With a shelf life of 5+ years it will be ready when disaster strikes! Keep at home for family members, keep it on the boat, in the car or caravan or even in the office or classroom. Makes a great gift!

The Ark III contains:
3 days MRE style food for one person.
9x servings for a total of 3600 calories
6x Pre-measured 125ml air tight, sterilized water packets.
1x Emergency Blanket, offsets hypothermic reactions. Retains 90% body heat.
Ideal backup for:
Marine use
Remote Truck & Logistics
Aircraft
Camping
Hiking
Disaster preparedness
Related info:
The ARK III withstands temperatures from -40Co up to 98Co and has a 5 year shelf life or more. We regulary rotate our stock so you are guaranteed fresh stock with a long shelf life. Current Best Before date late 2023.
Does not contain MRE Heaters as these meals do not require them.