Black Berkey Water Purification Elements 1 Pair (2)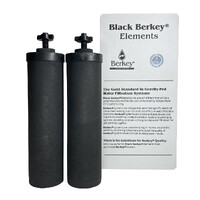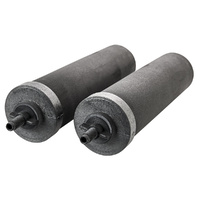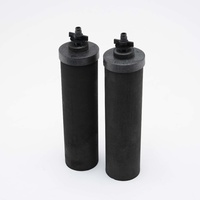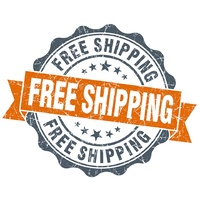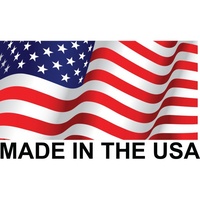 ---
Sold as 1 pair (2)

The Black Berkey Water Purification Elements are the best gravity filtration elements in the world. Berkey systems with Black Berkey elements are called Purifiers because they remove much more than standard water filters. The micro-pores in the Black Berkey elements are so small that bacteria are simply not able to pass through them. They are also so powerful that they can remove red food colouring from water without removing beneficial minerals your body needs.
The Black Berkey purification elements also remove or significantly reduce viruses, pathogenic cysts, parasites, harmful or unwanted chemicals such as herbicides and pesticides, VOCs, detergents, organic solvents, cloudiness, trihalomethanes, silt, sediment, heavy metals, foul tastes and odors, yet they leave the healthy and beneficial minerals that your body needs.

Do you already have a gravity ceramic filter system? Black Berkey purification elements fit most bench top style gravity filter systems so you can upgrade your existing ceramic filtration system. This vastly improves their ability to remove unwanted contaminates.

Black Berkey Purification Elements remove:
Black Berkey Purification Elements remove:

Approx 22,600 litres per pair. They last for many years.

Foul Taste and odours

Does not remove beneficial minerals

>99.999% Viruses

>99.9999% Pathogenic Bacteria

>99.98% of Trihalomethanes (Bromoform, Chloroform etc)

Removes chlorine & volatile organic compounds (way too many to list!) to below detectable levels

>99% Arsenic

>99.85% heavy metals (Aluminium, Barium, Copper, Lead, Mercury, Chromium, Nickel, Vanadium)

Removes Rust, silt, sediments
Black Berkey Purification Elements suit:
Go Berkey

Travel Berkey

Big Berkey

Berkey Light

Royal Berkey

Imperial Berkey

Crown Berkey
Some assembly required.
2 Year Australian Warranty on Black Berkey Purification Elements
---
Aus Post Postage & Handling
- $0.00
Standard Post via the Australia Post Road Freight Network. 2-7 business days delivery to 98% of Australian population.