Emberlit Original Stainless Steel Hiking Stove
Strong. Lightweight. Compact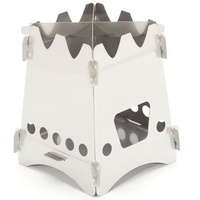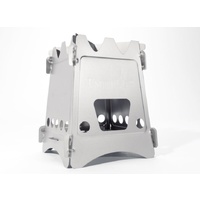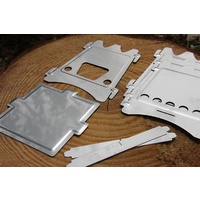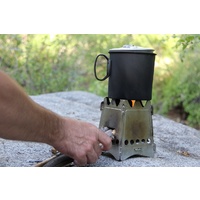 ---
Lightweight (316g)
Extremely efficient
Less smoke than a normal campfire
Packs flat to 1/8th of an inch (3-4mm)
Height: 15cm
Assembles in seconds.
Lifetime guarantee.
Stainless Crossbar Adapters included.
Made in the USA.
The Emberlit Stove (Gen2) weighs less than 11.3 oz (316 g) and is constructed of rugged stainless steel. When you compare that to a full canister of fuel and burner, the difference in weight is astounding! The stainless steel EmberLit is impervious to corrosion and remarkably strong. This camping or backpacking stove will hold the weight of any pot or pan that will sit securely without wobble. It will even hold cast iron camp ovens! Like the rest of the EmberLit line, this wood burning stove comes with a lifetime guarantee because you are never going to wear it out. With use, the individual panels that make up the EmberLit may take on a slight warp. This is normal and doesn't affect the assembly or durability of the stove. Great for camping, backpacking, bushcraft, wilderness survival, and disaster preparation.
---
Aus Post Postage & Handling
- $7.95
P&H Australia Post