SAM Splint Protection Kit by SAWYER for injured fingers, wrist, arms & legs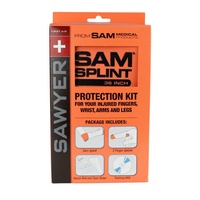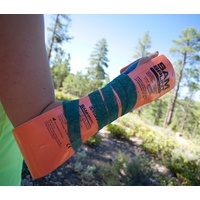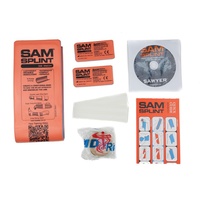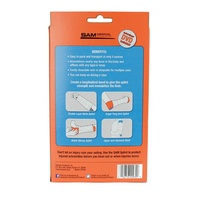 ---
Don't let an injury ruin your next outing. The SAM Splint by SAWYER is built from a thin core of soft aluminum alloy sandwiched between two layers of closed cell foam. Bent into a simple curve, it becomes extremely strong and supportive for any injured limb. It's also 100% reusable.
Features:
The SAM Splint is lightweight: transportable and easy to pack and carry
Fits in most standard First Aid kits
Flexible in application: One device immobilizes nearly any bone in the body, affixes with any tape or wrap.
Reusable: Wipes clean and is easily re-shapeable for another application.
A backcountry "Must-Have"
Also available in stand alone Regular and XL Size.
Multiple Uses! Can be used as an emergency paddle, cup insulator, flame guard!
Protection Kit Includes:
1x Regular Sam Splint
1x Instructional DVD
1x Wrap
2x Finger Splints
Tape Strips
1x Quick Reference Card
Technical Specifications:
Material: Aluminum/closed cell foam
Size: 36 x 4.5 inches
Weight: 128g
Made in USA.
UPC: 0-50716-00934-7, 0-50716-00931-6, 0-50716-00930-9