Silicone Rescue Tape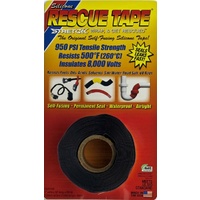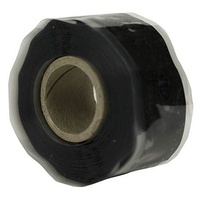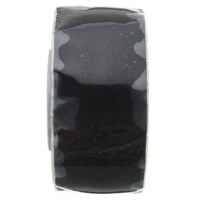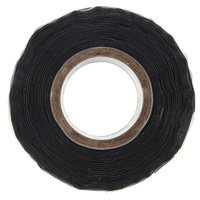 ---
Gaffa tape on steroids. Rescue tape is a self-fusing tape made of the highest quality materials for a permanent air-tight and water-tight seal in emergency situations. It is designed for quick plumbing repairs, sealing hoses in your car/truck/boat, coating the ends of rope, sealing the hatch of a space shuttle as it re-enters earths atmosphere, wrapping tool handles, emergency O-ring seals or to insulate electrical wiring. Its uses are only limited by your imagination. Just wrap it around a troublesome leak and it will bond in seconds. The tighter you stretch the tape, the quicker it will bond. Brilliant!

Features
• Resists fuels, oils, acids, solvents, salt water, road salt, UV rays
• Remains flexible to -60° C (-85° F)
• Operating temperature range: -65°C to 260°C / -85°F to 500°F
• Continuous temperature range: -60°C to 200°C / -76°F to 392°F
• Cold brittle point: -85° F / -65° C
• Tensile strength (Min.): 700 psi
• Elongation (Min.): 300%
• Tear strength (Min.): 85 ppi
• Bond strength (Min.): 2 Lbs
• Water absorption (Max.) : 3% By Weight
• Dielectric strength (Min.) :400 volts/mil (8,000 V/20 Mil)
• Measures 1 x 12 FT (Approx: 25.4mm x 3657.6mm)
Rescue Tape is the Ultimate Multi-Purpose Self-Fusing Repair Tape!

Silicone Rescue Tape . . .
• Is Self-Fusing!
• Incredible 950 PSI Tensile Strength!
• Insulates 8,000 Volts per layer!
• Withstands 500° F Degrees of heat!
• Remains flexible to -85° F! (-60° C)
Silicone Rescue Tape . . .

• Creates a Permanent Air-Tight, Water-Tight Seal in seconds!
• Never gets gummy or sticky like electrical or duct tape - No messy cleanup!
• Has an unbelievably long shelf life!
• Is extremely versatile - The fixall repair product that you've been looking for!
• Resists Fuels, Oils, Acids, Solvents, Salt Water, Road Salt, UV Rays

Silicone Rescue Tape has infinite uses!

Here are just a few suggestions:

• Keep it on board vehicles & equipment for emergency hose repair!
• Seal leaky hoses, pipes, tubing, lines, & fittings
• Neaten up lines and extension cords in stowage
• Wrap tools and handles for a GREAT non-slip grip
• Wrap wiring harnesses and custom split-looming
• Waterproof electrical connections and terminals
• Use it as an emergency fan belt!
• Make emergency O-Rings
• Wrap hydraulic fittings and other exposed metal connections to help prevent corrosion
• Works even over wet, dirty, or oily surfaces!
• Use it as a tourniquet or emergency wrap over bleeding injuries
• Wrap it around ANYTHING that you want secure, and it will never leave any sticky residue!
Technical Specifications:
Operating Temperature Range: -85° F to 500° F / -65° C to 260° C

Continuous Temperature Range:  -76° F to 392° F / -60° C to 200° C

Cold Brittle Point: -85° F / -65° C

Hardness Shore A: 50

Tensile Strength (Min.): 700 psi

Elongation (Min.): 300%

Tear Strength (Min.): 85 ppi

Bond Strength (Min.): 2Lbs

Water Absorption (Max.): 3% By Weight

Dielectric Strength (Min.): 400 volts/mil (8,000 V/20 Mil)
Directions:
1) Wrap Rescue Tape around project by stretching and overlapping onto itself. Stretch at least double to ensure a good bond; for high pressure leaks stretch to maximum amount. The tighter Rescue Tape is wrapped, the quicker and stronger the bond.
2) Continue wrapping Rescue Tape around project by overlapping 50% onto itself so that ½ the width is covered with the next wrap. The first and last wrap should completely overlap onto the previous wrap for a complete bond. Additional layers may be necessary, and the same process should be used over the previous layers. Rescue Tape works on either side.
3) Repositioning Rescue Tape is only appropriate in the first few seconds after wrapping. Attempting to reposition Rescue Tape after 1 minute or longer is not recommended. Rescue Tape is not reusable; however, additional Rescue Tape can be applied over project at any time in the future.
Additional Suggestions:
For high pressure leaks, additional wrapping may be required. Most hose repairs can be repaired with 3-5 layers in thickness, and wrapping 3 to 5 inches in each direction away from the leak; however, additional strength can be added simply by wrapping more Rescue Tape.

Rescue Tape has essentially a "maximum" stretch. It is important to stretch Rescue Tape to its maximum to avoid having the leak create a bubble.
For electrical wiring, it is not necessary to stretch tightly. In fact, it will be more resilient to abrasion when it is not stretched as tightly.
FAQ's
Q: How does Rescue Tape work?
A: Rescue Tape is a self-fusing tape. Ingredients in the silicone cause it to permanently bond to itself when stretched or forced together.
Q: How long does it take Rescue Tape to fuse together?
A: The tighter you stretch Rescue Tape, the quicker it bonds. In most cases, Rescue Tape bonds in just seconds and takes just a minute or two to become permanent. Because of our high quality control and superior ingredients, Rescue Tape is the fastest bonding self-fusing silicone on the market today.
Q: What is the shelf life? How do I store Rescue Tape?
A: For the longest shelf life, it should be kept at room temperature and away from direct light or heat. However, these factors only slightly alter the shelf life. Even when stored improperly, Rescue Tape should last for many years. Our customers have reported that our self-fusing silicone kept for decades will still work extremely well!
Q: How much Rescue Tape should I use?
A: When overlapping Rescue Tape by one-half as directed, you will automatically be left with a "double wrap." This is sufficient for most weatherproofing applications such as electrical wiring. However, when sealing leaks, the more you use, the stronger the seal will be. Typically 3 to 5 layers thick and 3 to 5 inches to both sides of a damaged hose should repair most leaks. Additional layers may be necessary.
Q: Does the surface of my project have to be clean?
A: No. Rescue Tape does not stick to the surface of a project, and therefore it does not matter whether the surface is clean or dirty. As long as you can overlap Rescue Tape onto itself, it will work, even if the surface is wet, dirty, or oily. You should avoid getting dirt or oil between the layers, however, as this will interfere with the bonding surface.
Q: Which side of the tape should I use?
A: Rescue Tape works on either side.
Q: Will Rescue Tape ever come unraveled?
A: As long as you have stretched Rescue Tape and followed the directions properly, Rescue Tape will permanently bond to itself and never come unraveled at the bond.
Q: How can I remove Rescue Tape?
A: Rescue Tape can be cut with a utility knife or scissors, and will never leave any sticky residue behind like traditional adhesive tapes because there's no adhesive!
Q: How long will a repair made with Rescue Tape last?
A: There are no guarantees how long a repair will last. There are many factors which contribute to a proper repair, including but not limited to the surface, the environment, the quantity of tape used, and the amount of tension Rescue Tape is stretched to. Because conditions and methods of use are beyond the manufacturer's control, neither manufacturer nor seller will assume any responsibility for the use or misuse of this product. Rescue Tape is not designed to be a permanent repair; however, many of our customers have reported that they have made long-lasting permanent repairs.
Q: What is the difference between Rescue Tape and other silicone tapes?
A: Rescue Tape is the highest quality available on the market today. Only the purest and highest quality ingredients are used. The quality is immediately observable by the amazingly fast fusing time, strength and durability. Rescue Tape significantly exceeds the military specification set forth for silicone tape. No other tape on the market can fuse as quickly, and endure as much as Rescue Tape!
---
Postage & Handling
- $5.00
---
Others Also Bought
---
More From This Category