SOL Urban Survivor 72 Hour Emergency Survival Kit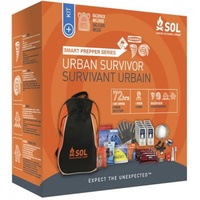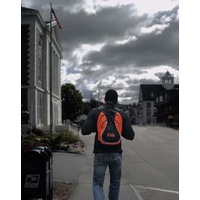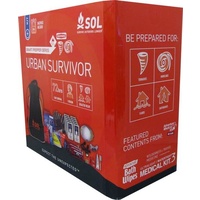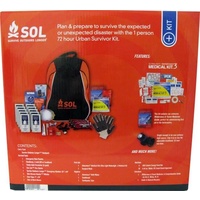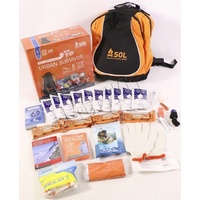 ---
Please note that this item is discounted due to short shelf life on the food and water.
The Urban Survivor 72hr kit by SOL (Survive Outdoors Longer) is specifically designed for 1 person to survive an unexpected disaster or emergency situation for at least 72 hours. The easy grab and go backpack is packed with range of survival gear such as:
Survival Tools
First Aid
Hygiene
Nutrition
Survival / Disaster Literature
With room to personalize and add more to your kit. Plan to survive the expected or unexpected disaster with the Urban Survivor.
FEATURES AND BENEFITS
Be Seen And Heard
Broadcast your location up to 10 miles away with the Mini Rescue Flash Signal Mirror and up to one mile away with the 100dB Slim Rescue Howler pea-less whistle.
Fix Yourself
Mini roll of duct tape to repair gear or yourself.
Start Campfires and Camp Stoves
Fire Lite striker is waterproof and tested to produce over 5,000 sparks; Tinder Quik burns up to two minutes, even when wet.
Stay Warm
Survive Outdoors Longer Survival Blanket reflects 90% of radiated body heat.
Knowledge is Survival
Survival instruction with the most up to date tips and survival techniques from the team at SOL
Contents:
1x Emergency Poncho
1x Headlamp, 2 Watt LED w/ headband
1x Fire Starter Tinder-Quick (4 pack)
1x Fire Lite Fire Starter
1x SOL Emergency Blanket (56" x 84")
1x SLIM Rescue Howler Whistle
1x Roll Duct Tape (2" x 26")
1x Pair of Work Gloves
1x AMK .3 Watertight Medical First Aid Kit
1x Surgical Mask
1x AMK Bath Wipes wit Aloe
1x Toothbrush
1x Toothpaste
4x Emergency Energy Bars (400 Cal ea) (Exp: 01/2021)
10x Emergency Water Rations (125ml ea) (Exp: 11/2020)
1x Wilderness & Travel Medicine: A Comprehensive Guide (by Eric A. Weiss, MD)(Book)
1x Guide to Natural Disasters
1x SOL Backpack with extra room to add more gear if required
KIT DETAILS:
Size: 30cm x 29cm x 15cm
Weight: 3.4kg
Group Size: 1 Person
Duration: 72 Hours Survival/Emergency/Disaster