Sawyer MINI Water Filter Kit BLUE + 2x Extra 2L water pouches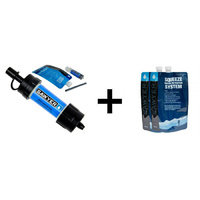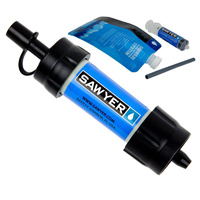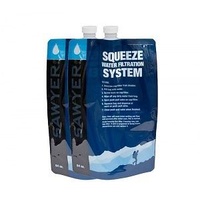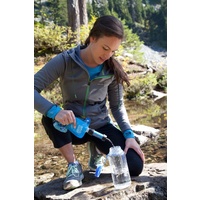 ---
Sawyer MINI Water Filter Kit BLUE & 2x Extra 2L water pouches
Includes:
1x Blue Sawyer Mini Filter Kit with 500ml Sawyer Water Pouch & Accessories
2x Extra 2.0L Sawyer Water Pouches so you have extra water on the trail
SAWYER MINI - "A LIFETIME OF WATER AT HAND."
Sawyer MINI weighs just 57 grams and filters up to 378,541 Litres of water.
What's special about Sawyer MINI is that it's membrane is 0.1 micron absolute. Sawyer MINI removes 99.99999% of all bacteria, such as salmonella, cholera and E.coli. Sawyer MINI removes also 99.9999% of all protozoa, such as giardia and cryptosporidium. Sawyer MINI - Sawyer's most popular water filter just got smaller and lighter! The Sawyer MINI water filter weighs just 57 grams and filters up to 378 541 Litres of water! What's special about Sawyer MINI filter is that it filter to 0.1 micron absolute, exceeding EPA and NSF recommendations. Did we mention you can drink directly from the Sawyer MINI filter, attach it to Sawyer Squeeze Pouches, use inline on a hydration pack, or attach it to the top of almost any bottled water?
Like all Sawyer Filters; the Sawyer MINI water filter is backflushable almost indefinitely. That means no expensive cartridges to replace, ever. Our suggestion: sell your old pump filter before everyone gets their Sawyer MINI water filter!
SAWYER MINI FEATURES:
Simply fill up the included water pouch at a lake or stream, screw the hollow-fiber filter onto the pouch and squeeze the pouch to push the water through the filter OR Check out the different ways to use your Sawyer MINI.
Includes a 500 ml. pouch. Collapsible pouches are made from durable Mylar foil (100% BPA FREE), can be rolled tightly for easy packing, and can be reused hundreds of times.
The Sawyer MINI has a removable push/pull cap built right in, so you can spray water straight into your mouth or use it to fill a water bottle; fills most water bottles in 30 seconds.
We've included syringe to backflush the filter to maintain a high-flow rate. The Sawyer MINI water filter will also fit the threads on most bottles of water that you buy at a grocery store; great for international travel.
Incredibly easy to use, The Sawyer MINI comes with simple cleaning and maintenance instructions.
SAWYER MINI SPECIFICATION:
Filter material: fiberglass; Filter membrane: a membrane made of a U-hollow fiber pores with a maximum of 0.1 micron
Filter Life: 378,541 liters of water
Weight: 57 g;
Removes: 99.99999% of all bacteria, microorganisms, E. Coli, Giardia, Vibrio cholerea, Salmonella, etc .
Recommended Use: all kinds of hiking, fishing, kayaking, trips, camping, emergency preparedness and more.
SAWYER MINI KIT INCLUDES:
1 x Sawyer MINI Water Filter with Tip Cap
1 x 500 ml Reusable Squeeze Pouch
1 x 18 cm Drinking Straw
1 x Cleaning Plunger (Syringe)
+ 2x Extra 2.0L Reusable Squeeze Pouches
Caution: Keep the filter from freezing! Freeze micro pores of the filter membrane will be irreversibly damaged. In cold weather, keep the filter in the inside pocket close to your body!
---
Aus Post Postage & Handling
- $8.50
P&H Australia Post