Single Black Berkey & PF2 Fluoride Replacement Pack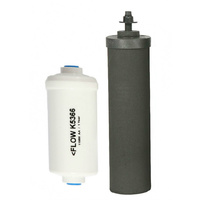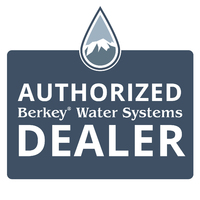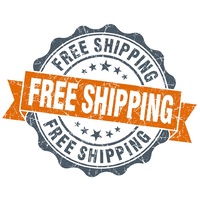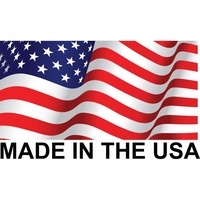 ---
Ideal upgrade for single candle ceramic/pottery urn style filters.
This kit contains:
1x Single Black Berkey Purification Elements

1x Single PF2 Fluoride & Heavy Metals Reduction Elements
This kit is ideal to:
Upgrade ceramic/pottery urn style filters that use one filter candle/element

replace you current elements (also suitable for many filter systems made by other manufacturers)

add extra capacity to your system

have a spare set available in case of emergency

create your own filtration system
Black Berkey Element dimensions:
Height: 21.7cm (excluding thread)
Diameter: 5.7cm
The Black Berkey Water Purification Elements are one of the best gravity filtration elements in the world. Berkey systems with Black Berkey elements are called Purifiers because they remove much more than standard water filters. A solid carbon block made from natural coconut husk, the micro-pores in the Black Berkey elements are so small that bacteria are simply not able to pass through them. They are also so powerful that they can remove red food colouring from water without removing beneficial minerals your body needs.
The Black Berkey purification elements also remove or significantly reduce viruses, pathogenic cysts, parasites, harmful or unwanted chemicals such as herbicides and pesticides, VOCs, detergents, organic solvents, cloudiness, trihalomethanes, silt, sediment, heavy metals, foul tastes and odors, yet they leave the healthy and beneficial minerals that your body needs.
Do you already have a gravity ceramic filter system? Black Berkey purification elements fit most bench top style gravity filter systems so you can upgrade your existing ceramic filtration system. This vastly improves their ability to remove unwanted contaminates. Quality checked by the Aussie Berkey Shop team before delivery.
Black Berkey Purification Elements remove or reduce:
Bad odors and taste, transforms municipal mains water into water that tastes sweet and pure

Chlorine to below lab detectable levels

Detergents

Reduces PFOA & PFOS greater than >99.9%
Viruses greater than >99.999%

Parasites greater than >99.999%

Exceeds Purification Standard (Log 4):

MS2 Coliphage - Fr Coliphage

PATHOGENIC BACTERIA SURROGATE greater than >99.9999%

Exceeds Purification Standard (Log 6):

Raoultella terrigena

TRIHALOMETHANES - Removed to >99.8%

(Below Lab Detectable Limits):

Bromodichloromethane - Bromoform - Chloroform - Dibromochloromethane

INORGANIC MINERALS

Removed to below Lab Detectable Limits:

Chlorine Residual (Total Residual Chlorine)

Heavy Metals

Cloudiness, silt and sediment. You can filter creek, river and dam water

Herbicides and Pesticides
Volatile Organic Compounds (VOCs)


Removed to below Lab detectable limits

1,1,1,2-Tetrachloroethane
1,1,1-Trichloroethane (TCA)
1,1,2,2-Tetrachloroethane
1,1,2-Trichloroethane
1,1,2-Trichlorotrifluoroethane
1,1-Dichloroethane (1,1-DCA)
1,1-Dichloroethylene (1,1-DCE)
1,1-Dichloropropene
1,2,3-Trichlorobenzene
1,2,3-Trichloropropane
1,2,4-Trichlorobenzene
1,2,4-Trimethylbenzene
1,2-Dibromo-3-chloropropane (DBCP)
1,2-Dibromoethane
1,2-Dichloro-1,1,2-trifluoroethane (CFC 123a)
1,2-Dichlorobenzene
1,2-Dichlorobenzene-d4
1,2-Dichloroethane
1,2-Dichloropropane
1,3,5-Trimethylbenzene
1,3-Dichlorobenzene
1,3-Dichloropropene
1,4-Dichlorobenzene
2,2-Dichloropropane
2,4,5-T
2,4,5-TP (Silvex)
2,4-D
2,4-DB
2-Butanone (MEK)
2-Chlorotoluene
2-Hexanone
2-Methyl-2-propanol
3,5-Dichlorobenzoic Acid
3-Hydroxycarbofuran
4-Bromofluorobenzene
4-Chlorotoluene
4-Isopropyltoluene
4-Methyl-2-pentanone
4-Nitrophenol
5-Hydroxydicamba
Acetone
Acifluorfen
Alachlor
Aldicarb
Aldicarb Sulfone
Aldicarb Sulfoxide
Aldrin
alpha-Chlorodane
Ametryn
Aroclor (1016, 1221, 1232, 1242, 1248, 1254, 1260)
Atraton
Atrazine
Baygon
Bentazon
Benzene
Bromacil
Bromoacetic Acid
Bromobenzene
Bromochloromethane
Bromodichloromethane
Bromomethane
Bromoform
Butachlor
Butylate
Carbaryl
Carbofuran
Carbon Tetrachloride
Carboxin
Chloramben
Chlordane
Chloroacetic Acid
Chlorobenzene
Chloroethane
Chloroform
Chloromethane
Chlorpropham
cis-1,2-Dichloroethylene
cis-1,3-Dichloropropene
cis-Nonachlor
Cycloate
Dacthal Acid
Dalapon
Diazinona
Dibromoacetic Acid
Dibromochloropropane (DBCP)
Dibromomethane
Dicamba

Dichloroacetic Acid
Dichlorodifluoromethane (CFC 12)
Dichloromethane
Dichlorvos
Diclorprop
Dieldrin
Dinoseb
Diphenamid
Disulfoton
Disulfoton Sulfone
Disulfoton Sulfoxidea
Endrin
EPTC
Ethoprop
Ethylbenzene
Ethylene Dibromide (EDB)
Fenamiphos
Fenarimol
Fluorobenzene
Fluridone
gamma-Chlorodane
Glyphosate
Halo acidic Acids (HAA5)
Heptachlor
Heptachlor Epoxide
Hexachlorobenzene
Hexachlorobutadiene (CCC)
Hexachlorocyclopentadiene
Hexazinone
Isopropylbenzene (Cumene)
Lindane (Gamma-BHC)
Merphos
Methiocarb
Methomyl
Methoxychlor
Methyl Paraoxon
Methyl tert-Butyl Ether (MTBE)
Metolachlor
Metribuzin
Mevinphos
MGK 264
Molinate
Monochlorobenzene
m-Xylenes
Naphthalene
Napropamide
n-Butylbenzene
Norflurazon
n-Propylbenzene
Oxamyl
o-Xylene
Pebulate
Pentachlorophenol
Picloram
Prometon
Prometryn
Pronamidea
Propazine
p-Xylenes
sec-Butylbenzene
Simazine
Simetryn
Stirofos
Styrene
Tebuthiuron
Terbacil
Terbufos
Terbutryn
tert-Butylbenzene
Tetrachloroethylene (PCE)
Tetrahydrofuran (THF)
Thiobencarb
Toluene
Toxaphene
trans-1,2-Dichloroethylene
trans-1,3-Dichloropropene
trans-Nonachlor
Triademefon
Tribromoacetic Acid
Trichloroacetic Acid
Trichloroethene (TCE)
Trichloroethylene
Trichlorofluoromethane (CFC 11)
Tricyclazole
Vernolate
Vinyl Chloride
HEAVY METALS:
Aluminum (>75%), Antimony (>97.5%), Barium (>80%), Cadmium (>99.5%), Cobalt (>95%), Chromium (>95%), Chromium 6 (>99.85%), Copper (>95%), Lead (>97.5%), Mercury (>98%), Molybdenum (>90%), Nickel (>95%), Vanadium (>87.5%)
Size:
Height: 25.3cm (including thread),

22cm (excluding thread)

Diameter: 5.8cm
Black Berkey Purification Elements are Made in the USA
PF2 Fluoride Elements
The Berkey PF-2 reduction elements are designed for use in conjunction with the Black Berkey Purification Elements only. The PF-2 Elements screw onto the Black Berkey element thread stems and sit in the bottom tank of the Berkey Filter System. After the Black Berkey Purification Elements have filtered the water, the PF-2 Elements then filter the water again. They are designed to absorb the following unwanted elements found in drinking water:
Fluoride
Arsenic V and pre-oxidized Arsenic III
Other residual heavy metal ions
FLUORIDE: Testing for fluoride was based on 20-30ppm of the ion in the influent aqueous solution at a flow rate of no more than 3 gpm (11 lpm) per cubic foot of media. Results of < 1ppm of the fluoride ion in the effluent were typical for the media (>95% reduction). Under optimum conditions, effluent concentrations of less than 50 ppb were readily achieved (>99.75% reduction).

ARSENIC: This product uniquely targets the entire family of arsenic oxide anions as well as the arsenic cations.

When to replace?
Under normal conditions it is recommended that each set of two Berkey PF-2 elements be replaced after 1,000 gallons (3,785 liters) or two years, whichever comes first.
Notes:
Do not boil the PF2 elements.
The PF2 elements need to be primed just like the Black Berkey elements (included instructions show how easy it is)

Berkey PF2

elements reduce filtration flow rate by 15-20%.

The PF2 elements are easy to install. After installing the Black Berkey elements, simply screw the PF2 elements onto the thread stems of the Black Berkey purification elements (leave the wingnuts from the Black Berkey Purification Elements in place). Be sure to read the supplied manual for correct installation! The PF2 elements then sit suspended in the bottom tank and are ready use! Make sure that you filter and discard the first full tank to remove any residual manufacturing dust etc.
Length: 152.4mm, Width: 63.5mm
Colour: White
Replace every 1900 litres (500 gallons) each.
Quality checked before delivery.
---
Postage & Handling
- $0.00
---
Others Also Bought
---
More From This Category