HydroBlu Versa Flow Light Weight Inline Water Filter
0.1 Micron Hollow Fiber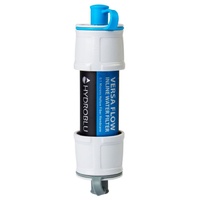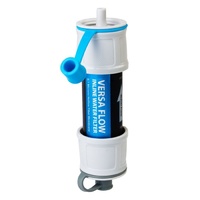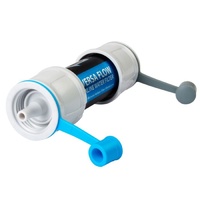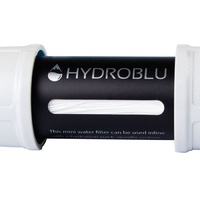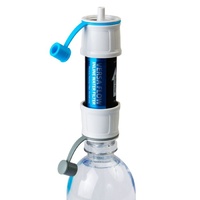 ---
Can be used inline with a hydration pack, gravity system or threaded onto a 28mm water bottle

Medical Grade 0.1 Micron Filtration Membranes

Optional Gravity Bags available

Filters faster than Sawyer Mini and clogs less often

Includes side view window to see internal filter condition
The HydroBlu Versa Flow was designed to be as versatile as you. It easily adapts to your lifestyle and can be screwed onto a plastic water bottle, used inline with your hydration pack, used as a gravity system or bucket filter, or can be used as a straw so you can drink directly from the water source.
The Versa Flow water filter is one of the lightest and most convenient personal water filters on the market. Weighing in at only 53 grams you don't have to worry about adding extra weight to your pack or try to find a dedicated spot for it. It will fit virtually anywhere. This water filter is perfect for backpacking, hiking, camping, travel, and emergency preparedness.
Although it is lightweight, it is heavy in features. Every filter is built to exacting standards and exceeds EPA standards for filtration. The HydroBlu Versa Flow has many tiny tubes called hollow fiber. Hollow fiber works through size exclusion. Meaning the hollow fiber tubes have thousands of tiny holes (0.1 microns) that block 99.9999% of harmful bacteria, Giardia, E. coli, protozoan cysts, Cryptosporidium and more. All of these organisms are too large to fit through the 0.1 micron holes. Some manufacturers filter the water through the core of the hollow fiber tubes, but this restricts water flow because only so much water can fit through the core opening. We filter water through the outside of the tubes by bending the hollow fiber. This dramatically increases the surface area and flow rate of the filter while protecting the filter integrity itself. If the core of the tubes become clogged from sediment on competitors' filters you can no longer use the filter. The difference that the HydroBlu Versa Flow allows you to be able to backflush the filter, clearing out all of the particulate and increasing the lifespan of the filter. If you consistently backflush the filter you can use it almost indefinitely. This means no additional filters, cartridges, pumps, iodine drops, or batteries to ever buy again.
The Versa Flow water filter does not remove chemicals or viruses from water. Generally viruses are not found in North America or in municipal water supplies around the world. Check out the HydroBlu Clear Flow Filter Bottle if you are concerned about heavy metals or chemicals in your water. Lightweight and low cost, the Versa Flow should be in everyone's backpack, survival gear or travel bag.
Ideal For:
Hiking & Bushwalking

Camping

Remote Outback Travel

International Travel

Emergency & Disaster Preparedness
For Use With:
Inline Hydration - Fitted with standard 1/4" tube fittings for use with compatible hydration packs & bladders from CamelBak, Osprey, Platypus, MSR etc

Inline Gravity - Use the optional HydroBlu Gravity Bags or HydroBlu Bucket Adaptor to allow gravity to easily push clean water through the filter. Also compatible with other brand bags and pouches such as Sawyer & Platypus

Water Bottle - Includes standard 28mm female connector that enables it to work with standard soda and water bottles
Features:
The Versa Flow removes 99.999% of all bacteria, such as E.coli, salmonella, and cholera. It also removes 99.999% of all protozoan cysts, including giardia, cryptosporidium and other protozoa.

Hollow fiber membrane

Includes Side Window to view internal membrane

Attaches to standard plastic bottle with internal 28 mm threading, can be used inline on hydration packs, gravity or bucket system, or used as a straw to drink directly from your water source

Perfect for hiking, backpacking, camping, travel and for emergency situations

Flow rate of 3.75 Litres in 5 minutes (gravity fed)

Includes Instructions

Compatible with other brand accessories such Sawyer & Platypus
Includes:
Technical Specifications:
Filter Material: Hollow Fiber

Removes: Bacteria, Protozoan cysts, Giardia, Cryptosporidium, E. Coli, Salmonella and more

Filter Life: up to 100,000 gallons

Weight: 53 grams

Size: Length 14.5cm, Width 3.9cm
Gravity Bags and accessories sold separately
---
Aus Post Postage & Handling
- $8.50
Standard Post via the Australia Post Road Freight Network. 2-7 business days delivery to 98% of Australian population.