Deluxe Pet, Hunting Dog & Animal First Aid Kit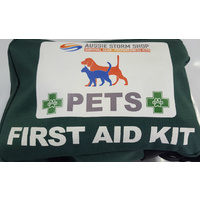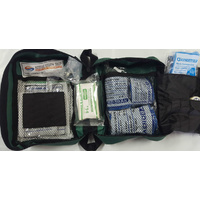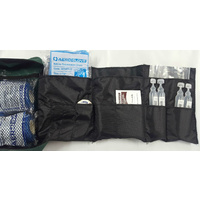 ---
Just like our Premium Pet First Aid Kit, the Aussie Storm Shop's Deluxe Pet, Hunting Dog & Animal First Aid Kit includes everything required to attend to your pet from minor cuts & scraps to dealing with a tick or snake bite. This Deluxe kit also includes a professional grade stainless steel TickEase tick removal tool and a Medical Sterile Skin Stapler in case your hunting dog is attacked by a wild pig. This is a detailed First Aid Kit designed for Australian conditions.
Ideal for:
Hunting Dogs
Cats
Lifestock
Other large animals
This detailed kit includes:
1x Cohesive Bandage 5cm x 4.5 metres
1x Cohesive Bandage 7.5cm x 4.5 metres
1x Cohesive Bandage 10cm x 4.5 metres
2x Gauze Swabs 3pcs 7.5cm x 7.5cm
6x Povidone Iodine Swabs 60 x 33mm
1x Wound Dressing No.14
1x Wound Dressing No.15
1x Combine Dressing 10cm x 10cm
1x Combine Dressing 10cm x 20cm
4x Eye Wash Liquid Ampoule 15ml
2x Low Ad. Dressing 5cm x 5cm
2x Low Ad. Dressing 7.5cm x 5cm
1x Medical Roll Tape 125mm x 5 metres
1x Stainless Steel Scissors 9cm
1x Stainless Steel Tweezers / Forceps
1x Thermal Heat Insulation Blanket (Silver) 127cm x 180cm
1x Biohazard Bag 240mm x 160mm
2x Pairs of Powder Free Nitrile Gloves
1x Premium Stainless Steel Tick Ease Tick Removal Tool
1x Instant Cold Pack
1x Medical Sterile Skin Stapler Kit (includes 35 Sterile Single Use Staples)
1x Contents List
1x Quality First Aid Bag
12 Month Australian Warranty.
Designed and assembled in Australia.
---
Aus Post Postage & Handling
- $8.50
P&H Australia Post